The design of a wooden crate plays a big role in the entire life of the package. There is a delicate harmony that takes place between the construction materials, hardware, and engineering techniques that can take a garage-band crate into a super-star crate!
To make your crating a success, you'll have to consider every stage of the packages' life—from beginning to end.
But don't worry about a big solo! Making the right packaging design decision doesn't have to cause stage fright. Actually, it can be fun to be in rhythm with your packaging provider!
So if want your wooden crate to rock from the opening act to the encore, follow the tips below to make it happen.
1. Banish Bulk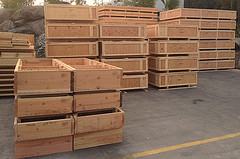 A bulky wooden crate can be a stage hog! Large crates take up a lot of storage space. This can pose more than a few problems when it comes to handling, transport, and placement.
Instead of a bulky shipping crate, consider packaging that is compact and as light as possible with the aim of preserving and enhancing the value and appeal of the product, while minimizing storage requirements and transportation costs. A professional shipping crate designer can help you reach this goal.
If your package acts as a return shipper, an innovative option is to utilize a collapsible shipper, which is a shipping crate that can easily be disassembled to allow the stacking of the lid, sides, and ends to reduce the overall shipping dimensions for the return shipment. Freight fees are not only based on payload but the cubic feet consumed as well. Read Valley Box's more detailed case study about Collapsible Shippers.
2. Choose Attractive, Customizable Materials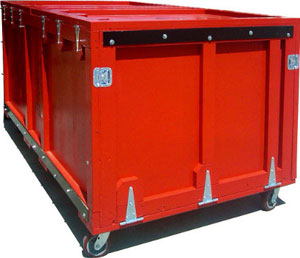 Like a true rock star, wood is one of the most attractive and versatile materials on the planet! You can:
Paint it, which adds ultraviolet protection (increasing its lifespan) and aids in container identification
Add everything from handles to latches to linings
Add other materials such as steel for reinforcement
Fashion it to fit your product's exact dimensions, which keeps it safe inside and eliminates added bulk
Outfit the interior with wood, plastic, fabric, or foam for added protection
Read about a wooden crate being used as highly visible Fixture Housing for Delta Airlines in our case study.
3. Go Green
Reusable and sustainable packaging is here to stay, so to make your packaging rock, ditch those unsustainable, one-use designs and jump on the green bandwagon now!
Besides preserving the environment, reusable wooden crate packaging offers all sorts of benefits from reduced labor costs, inventory, and product damage to a rapid return on investment (ROI) and residual value at the end of its service life.
Sustainable packaging:
Helps move products efficiently and safely throughout the supply chain
Is beneficial, safe & healthy for individuals and communities throughout its life cycle
Is physically designed to optimize materials and energy
Meets market criteria for both performance and cost
Optimizes the use of renewable or recycled source materials
Refurbishing extends the life of the shipping crate and your initial investment
Going green doesn't have to associate with costing more. Reusable shipping crates can have a very long life when built right. Additionally, these reusable shipping crates can be repaired to extend that long life even further! Read a more detailed case study about the Repairing Process.
4. Focus on Fonts
According to Preston D. Lee, founder of Millo.com, "the text on the packaging should be legible. The target market determines how small or large to make the text. The text color should blend with the overall design of the packaging. This also requires putting what is important on the packaging and omitting superfluous text." If you can't read what's on the packaging, you open the door to all kinds of confusion from departure to destination and beyond.
Trade show crates especially benefit from being identifiable. Read a more detailed case study by Valley Box about a trade show box with special stenciling and extraordinary functionality.
5. Keep it Simple
You can say a lot with a little. Make sure the packaging performs for what is necessary, with no superfluous bells and whistles. The product should be easily transportable, include applicable warnings and of course, protect the product.
Additionally, if you have multiple-sized parts shipping in a sea container consider a generalized outer box design. This design will help avoid confusion during the initial pack in your warehouse and continue on to utilize the internal space of the sea container more effectively, eliminating the laborious process of blocking and bracing your cargo.
Read Valley Box's more detailed case study about Optimizing Sea Container Packing.