Are you planning a shipment from Death Valley to Alabama? How about Daytona Beach to Dubai? If so, listen up. Besides making sure your shipment is securely packed to prevent damages that can occur from transporting, handling, and storage you'll need to think carefully about corrosion prevention.
Selecting the right moisture barrier bag can combat corrosion, which can result from everything from environmental changes outside to the atmosphere inside receiving and storage facilities.
Believe it or not, even the slightest change in climate can affect how your product holds up against corrosion. But extreme climate changes, like going from dangerously hot and dry to 80 percent humidity, will almost certainly cause problems if you've chosen the wrong materials.
Materials that are not made for these sudden changes can melt, swell, or stick in humid or other inclement weather. Simply put, the wrong packing method can quickly reduce your protection to zero.
The good news is the packing industry happens to be one of the world's most advanced industries. The engineers behind the best designs are well-versed in creating moisture barrier bag that has the amazing ability to adapt to thousands of different environments across the planet. This means, you'll find a number of effective corrosion prevention solutions, whether your company ships a few times a month or daily.
Take a look at our 6 tips for packaging corrosion prevention below:
1. Choose Corrosion Resistant
Corrosion-resistant materials, such as
volatile corrosion inhibiting (VCI) products, desiccants,
and humidity indicator devices help keep the contents
inside clean, dry, and corrosion-free during transport and
storage.
And here's a bonus: most of these products are
non-toxic, economical, and easy to use.
2. Choose Transparent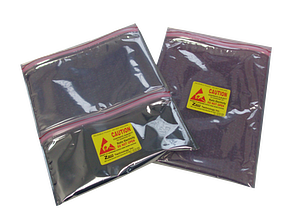 Transparent moisture barrier bag bags allow
the items inside are to be inspected without exposing them
to chemicals and conditions that cause corrosion such as acids, moisture, salts, water, and gases containing sulfur, acid vapor, and ammonia gas.
3. Know your Mode of Transport
Knowing whether your shipment will travel by air,
land, sea, or a combination of these will help you
decide just how much protection you'll need.
For example, shipments traveling by sea may be
exposed to much more moisture/condensation
during transport, then a shipment traveling by air
or freight train.
4. Know Your Destination & Receiving Facility
Once your shipment leaves the ship, airplane, train,
or truck, it may sit outside on a dock or other area
for several hours before being moved to storage or prepared for the final leg of the trip.
The climate outside may be extremely muggy and
the environment inside may be dry, but lacking AC. Knowing about these conditions can also help you
make a decision about just how much protection you
need and the best materials to use.
5. Consider Customization
Moisture barrier bags that help protect your shipment by repelling corrosion comes pre-made or you can have it customized to fit your specific parts.
While one-size-fits-all products may offer a good level
of protection, customized products add another layer
of protection for your products because they are made according to your precise specifications.
Customization also allows you to choose a variety of different
protective materials and varying thicknesses for the parts that you think
need it the most, rather than purchasing type material & thickness for all of your parts.
6. Don't Go it Alone
Always consult with a crating professional to help
you select the right material for your shipment. A crating professional, like the professionals at Valley Box, adds yet another layer of protection against damages to your shipment.
Professionals understand the intricacies of corrosion prevention and the importance of educating customers about just how it's done!