Motorcycles are small efficient vehicles. Owners love the ability to zip through traffic and avoid traffic jams, parking in the closest parking spots in front of stores, and the general freedom that comes with driving in the open air.
One more benefit, unlike a car, is you can easily pack up your motorcycle in a shipping crate and send it all over the world!
As was the case for a San Diego Serviceman. Learning of his three year deployment he needed a motorcycle shipping crate to get his beloved bike to his new residence in Europe. He wanted to drop off the bike and have it professionally packaged and shipped with limited involvement. His main concerns were:
Possible damage to the custom chrome
Possible damage to painted artwork
Required the motorcycle remain in running condition
Motorcycle shipping crates can be tricky, so you want to make sure the packaging company you've hired is taking all of the necessary precautions.
Motorcycle Shipping Crate
The Packaging Experts at Valley Box had several solutions that would work in unison to meet the Lieutenant's needs.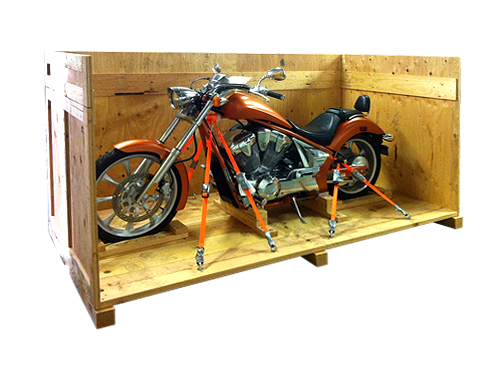 First, Valley Box decided to secure the bike using minimal attachments to prevent possible abrasion to the bike's surface.
Next, tie downs were used to secure the motorcycle to a plywood deck. This would prevent vertical and lateral movement while in transit.
Due to the substantial width of the rear tire, a cradle was utilized to secure the rear of the bike.
Banding was used for added strength and security
Finally, tip-n-tell labels were added on the exterior of the crate to indicate any rough handling by the shipper.
Benefits of a motorcycle shipping crate
Fast handling of cargo for freight forwarder thanks to an easy-to-handle wood crate
Motorcycle shocks remained primed
No disassembly of motorcycle required
Ready to drive upon delivery
Download the case study about the San Diego Serviceman's experience!
Watch Valley Box Company in action packing up this Ducati motorcycle.