Announcements of the rising cost of shipping are becoming all too common in the world of shipping—year after year. Even though gas prices fluctuate, the cost of shipping has still been on the rise. Unfortunately, it is the manufacturing companies that usually end up bearing the brunt of this persistent trend.
Increased shipping costs can:
Limit growth
Cause companies to cut corners, which can lead to damaged products.
Slow shipping schedules
Increase the price of their product
Strain customer relations
It's important for companies to know their options when it comes to lowering shipping, freight, and transportation costs. One of the easiest ways to accomplish this is to reduce the weight of your wooden crate.
Below is an example of how one such manufacturer was able to reduce its shipping costs by 28%.
The Challenge
For 6 months Luke, a rep at a Composite Manufacturer, has been competing for a military contract bid. He was at the final stages of the process and desperately needed to reduce the final shipping costs in order to be more competitive on the bid.
His freight company told him that he "needed to reduce the overall weight of his shipment" if he wanted to reduce shipping costs. He knew the weight of the part wasn't going to change, after all, the engineers had been working on that design for over a year. The only other component to consider was the crating...
He picked up the phone and called his shipping crate provider, Valley Box Company.
The Solution
Luke explained his challenge to his Shipping Crate Expert, Gary Motika. Familiar with the current shipping crate design, Gary asked a few questions about where the crate would be stored during transit. Luke explained that they would be stored inside a warehouse and shipped via air to their final destination, inside another warehouse.
Gary suggested a hybrid wood and triple wall box. Gary explained, "The triple-fluted corrugated material has a vertical strength comparable to plywood but is 1/3 the weight."
Valley Box has created solutions by simply incorporating a wood base into the design. Shipping crates are then capable of supporting heavy loads while weighing less overall. Although triple wall being a paperboard material doesn't do well in moisture, Luke's application was the perfect scenario to give this solution a shot.
Valley Box engineers worked closely with the Composite Materials Manufacturer company to design a hybrid triple wall and wood shipping crate capable of holding the payload, which successfully reduced the overall weight of the shipping crate.
Luke called his freight provider and was able to reduce the shipping costs by 28%. This in turn allowed Luke to lower the price on his bid, and he won the order! It was a huge success for his company and the team.
See the entire Case Study here:

Other Benefits of Triple Wall Boxes
Triple wall boxes provide manufacturers with an alternative to wood crates. When engineered correctly, a triple wall container can be just as strong as a plywood box, but weigh much less!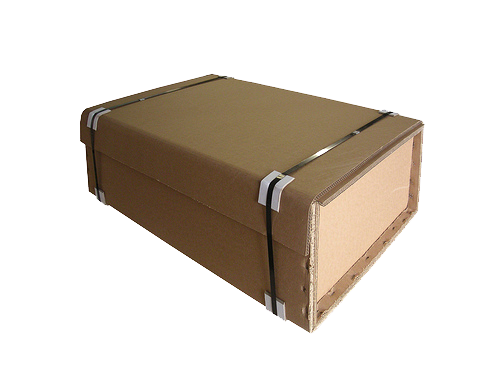 Triple wall is:
250% lighter than wood
22% average cost-savings compared to wood
Often used to reduce overall packaged weight
A bug-free alternative for International Shipments
Splinter-free handling
Ideal for indoor storage
A great one-way shipper
Perfect for lower quantity runs
Recyclable by the end-user
Low-cost solution
Valley Box offers additional features such as:
Available in one-offs and low quantities
Skids to facilitate pallet jacks or forklifts
Heavy-duty 1.5-inch wood deck for heavy loads
Internal foam inserts
Reusable case-style box with fixed closing straps and buckles


See More Triple Wall Boxes