Aerospace, aircraft, and aeronautics manufacturers deal with many unique packaging challenges. Based on our own customer's stories we've compiled a list of 8 new ideas for aerospace packaging that you might not have thought of.
1. Make the Package Reusable
Allowing the end-user the opportunity to use your packaging more than once makes life easier for your customer.
A San Diego Aeronautical manufacturer needed a returned materials authorization (RMA) solution for their customers who were returning expired units for diagnostics or repair. The company wanted to use the same container for both the replacement and returning unit.
Read more about our standardized reusable crate that helped to improve turn-around time on shipped units and customer satisfaction in our Case Study: Reusable Return Shipper.
2. Add a Little Extra to Your Packaging
Add cool components such as; ramps, hinges, viewing ports, or rolling pedestals.
Don't add them just because they're cool, add them for purposes such as this Aircraft Systems Manufacturer who required a shipping container for two 26-foot-long delicate wings. The end destination had limited lifting capabilities and therefore required that the container be opened and unloaded by hand.
Read more about the ergonomic drop-down side design that involved a 3-section lid, hinges, link locks, and steel-reinforced interior in this Case Study: Steel Reinforced Long Box.

3. Let Your True Colors Shine Through
Dazzling colors will certainly help your aerospace packaging stand out. Match the color to your branding efforts or create something with multiple colors or stencils.
Our Aeronautical customers have found that a painted box can be easily identified when amongst a crowd of other products which aids in customer recognition, especially against the competition.
4. Strive for Production Value
Material handling carts and fixtures are a great addition to a manufacturing or assembly line and can improve productivity & safety.
Prior to installing tires to landing gear, this Aeronautics company needed a device that would integrate 3 steps into 1;
Remove a tire from the rim
Mount the new tire
Seal the bead.
The customer was most concerned about the fixture accepting multiple-sized airplane tires and that the fixtures would be suitable for safe employee operation.
Read more about how a custom fixture resolved these issues in this Case Study: Custom Fixture.
5. Add a Logo for Identity
If your product happens to be seen by a lot of eyeballs while still in its packaging, you may want to consider adding your logo, especially if these eyeballs belong to potential customers.
Delta Airlines, a Major International Airline, was seeking an aerospace packaging solution that would protect their expensive pulley system, yet still allow mechanics easy access to the system. Valley Box can make custom stencils and source vinyl stickers of your logo for wood boxes.
Read about the branded wood box solution that allowed for both protection against exposure to the elements as well as easy access in this Case Study: Fixture Housing.
6. Make it Interactive
It doesn't have to be high-tech! People love the packaging that actually does something, and when it does the packaging becomes part of the experience of using the product. Think indicators, inserts, removable saddles, and RFID.
For instance, one of our aerospace packaging customers had a case where hidden damage was occurring and was not detected until the part was installed and failed to perform.
Valley Box used a process of elimination to target the exact cause of the packaging failure. The first step was to include a Tip N Tell and Shock Watch in the packaging to determine if mishandling was occurring by the contracted carrier. The 2nd step was to perform an ISTA vibration test which revealed the packaging was failing to keep the rods secure.
From this information, Valley Box created a custom guillotine-style foam insert to eliminate the vibration and save the fragile rods from any damage during transport.
7. Add Some Texture
You can add texture designs with recessed routed-out lettering, carpet, Linex®, paints, foam, or steel.
One such application comes when a customer requires highly durable abrasion control. Solutions such as;
A carpeted interior can prevent abrasion on polished surfaces.
Linex® can also be used to coat the interior as an impact-resistant and non-conductive solution for electronics.
Paper-lined interiors to meet Mil Specs. Learn more about Mil-Specs here
8. Try See-Through packaging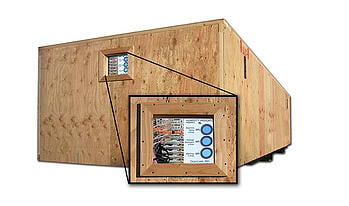 Observation ports or holes can allow an end-user to verify contents without having to take apart the package This may not work with all products, but when it does, it works like a charm.
Take this product which required going through customs inspections prior to shipping internationally.
In order to confirm what was in the shipment customs officials would resort to completely opening the package which included breaching the anti-corrosion seal.
Read more about how the clever addition of an observation port resulted in a 26% reduction in damage claims due to corrosion in Case Study: Observation Port.