Valley Box Company, a San Diego crating manufacturer, welcomes you to this 7-part series exploring the package lifecycle with a focus on matching you with the right packaging method for your product.
You have a few options moving forward.
Voracious Reader:

Below you'll find a blog-transcript of this sixth section in the Package Lifecycle.
Press Play: If you want to sit back, relax and let us do the talking watch the video of the presentation below!
Now the product has reached its destination, the time to unpack has arrived. Consider the end recipient's handling abilities:
What are their lifting capabilities? Do they have a crane, forklift, lift gate, or hand truck on site for safe unloading?

Can the package be opened safely?
Are there outside dimension restrictions, for instance is the package passing through a standard entry way or door jamb?
What is the man power required to safely access the part?
Your packaging should always consider if the end destination has handling challenges like these.
Easy to Open Wooden Shipping Crate Case Study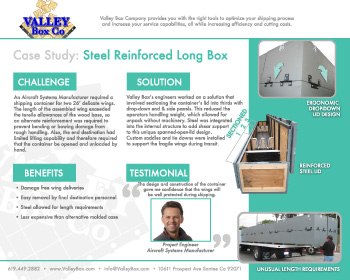 This particular Aircraft Manufacturer had a receiving challenge.
Challenge: In this situation the end user had no mechanical equipment on the receiving end and needed to safely access the wings by hand using two people.
Solution: Valley Box a San Diego crating company developed an ergonomically designed 3-section lid with drop-down sides in order for two people of average height to lift the wing out without damage or injury.
---
Watch more of the series