Valley Box Company, a San Diego crating manufacturer, welcomes you to this 7-part series exploring the package lifecycle with a focus on matching you with the right packaging method for your product.
You have a few options moving forward.
Voracious Reader:

Below you'll find a blog-transcript of this third section in the Package Lifecycle.
Press Play: If you want to sit back, relax and let us do the talking watch the video of the presentation below!
Now we come to the point of why the packaging was designed in the first place to withstand the Transport & Handling. To maintain the quality of your product to its destination, the packaging has to have performed properly.
In most cases products ship everywhere everyday with no issues of damage from rough handling, punctures, vibration damage or dropping. When, however, these events do occur, new issues come to light concerning damage and returns.
Causes of Damage
This section will help you learn to recognize and prevent damage. There are many ways a product can be damaged during transport.
Some common causes are:
Severe impact
Package design flaws or failures
Improper stacking resulting in crushing
the End users improperly handling or unpacking
Hidden damage from Internal cushioning or bracing failure
Identify the Cause
Occasionally when products are damaged or destroyed, the blame game can come into play. We all use freight companies and hire carriers at some time. To make sure that the cause of damage and the parties involved are identified for insurance proposes, San Diego crating companies like Valley Box can recommend some basics steps be implemented to protect your company.
First you need to identify what the cause of damage may be.
If you've identified your company as a type 1, your packaging could be very repetitive and standardized. With a production line that is packaging larger amounts of product every day, a consideration to lab test the packaging may reveal the cause of damage
For all types of manufacturing, other steps should include taking a photo of the packaged product prior to shipment.
Ask the same of your client if it is received damaged.
If you suspect the carrier is mishandling your shipments, include damage indicators like a Tip N Tell or Shock Watch.
If there are handling, transport, and unpacking procedures, make sure to include visual instructions on the outside of the package
Damage Solutions
After you have identified the cause of damage some solutions might be
Changing your packaging procedures
Choosing an alternative solution to Improve the packages performance
Know your distribution environment and possible variables associated with land, Sea, Air, or Rail transport
And safe guarding against fraudulent damage claims from customers with damage indicators
Hidden Damage Case Study
Challenge: Here is a case where hidden damage occurred and was not detected until the part was installed and failed to perform. A process of elimination was used to target the exact cause of the packaging failure on the returned parts for this Rod Manufacturer.
Investigation: The first step was to include a Tip N Tell and Shock Watch in the packaging to determine if mishandling was occurring by the contracted carrier.
The 2nd step was to perform an ISTA vibration test which revealed the packaging was failing to keep the rods secure.
Solution: From this information Valley Box created a custom guillotine style foam insert to eliminate the vibration and save the fragile rods from any damage during transport.
Outcome: When the new package design was implemented the rate of damage returns went from 36% annually to zero. In turn this increased overall customer satisfaction.
ISTA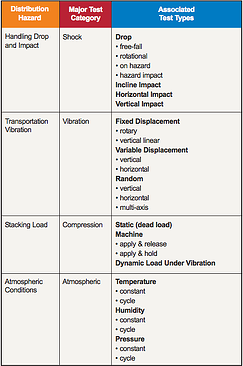 The International Safe Transit Association or the ISTA has four basic categories of hazards that may occur during distribution:
Shock
Vibration
Compression
Atmospheric.
Each hazard category has a major test category associated with it and there are 13 associated test types.
Contact the ISTA for further information on package testing at ISTA.org.
Heat Treated
Heat treated wood is mandatory for overseas shipments with wood outer packaging.
The Heat Treatment Program was developed in order for the American Lumber Standard Committee to implement a quality control program for the official labeling of heat treated wood packaging material with the ISPM 15 official mark.
Of course this came from the need to control plant diseases worldwide and compliance with the US Department of Agriculture.
If the lumber used on an overseas shipment does not bear the official mark there could be a hold-up in customs and potential liability. For those of you familiar with Customs inspections, the last thing you want is for your product to be waiting in port.
Expedite Customs Inspection Case Study
Challenge: This Import Export Company was experiencing long wait times during customs inspections. The container was not easily opened for verification and the vapor barrier bag was left open exposing the sensitive machinery to atmospheric moisture resulting in corrosion damage.
Solution: By installing an observation/inspection port on the exterior wood container, and a viewing port in the barrier bag, we allowed Customs to perform their tasks without breaching the seal or the container.
A humidity indicator visible through the observation port was also added. This provided a method to confirm the integrity of the vapor barrier bag.
Outcome: This observation port design successfully reduced damage claims to zero and expedited all future customs inspections.
---
Watch more of the series