Valley Box Company, a San Diego crating manufacturer, welcomes you to this 7-part series exploring the package lifecycle with a focus on matching you with the right packaging method for your product.
You have a few options moving forward.
Voracious Reader:

Below you'll find a blog-transcript of this second section in the Package Lifecycle.
Press Play: If you want to sit back, relax and let us do the talking watch the video of the presentation below!
The second step of the packaging lifecycle is your Product Assembly. This packaging section has many variables to consider since each manufacturer is unique.
Incorporate Material Handling
Consider your assembly line, the way your product is sized and handled during assembly. Moving parts around during production can be cumbersome and in some cases unsafe. With the help of a San Diego crating company, streamlining your production line with material handling or staging fixtures can prove to be:
Beneficial at optimizing your production line
Increase shop floor space
Improve handling and staging
Improve part protection
Improve inner plant logistics,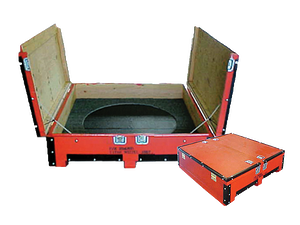 An example of this is the red reusable parts handling fixture on the right. This multi purpose design has:
A split lid for safe easy opening and loading by one-person.
Offers protection for staged parts
It's stackable reducing floor space demands along the production line.
The black steel aircraft engine stand to the left serves multiple functions.
Introduced early in the production line sequence, it works as a build stand.
Then It travels through production serving as a material handling fixture.
At final inspection it becomes the shipping fixture by attaching the pre-designed wood top box to the base. Note the vibration dampening isolators incorporated within the steel frame.
Product Assembly Case Study
Material handling fixtures were introduced to help streamline this hydraulic ram manufacturer's production line.
Challenge: Previously they stored unfinished parts on pallets spread across a large section of their production and warehouse floor. Hand trucks were required to move these pallets when traveling down the line. This method caused a log jam, which bogged down production.
Solution: Valley Box's solution was to design and construct vertical multi-part fixtures with casters allowing for movement throughout the assembly, eliminating the need for pallets, and improving floor space and productivity.
Outcome: These fixtures decreased the amount of space needed for unfinished parts to 47% of what was previously required, improved the mobility of the previously palleted parts, and significantly decreased the handling time that was associated with the pallet method.
---
Watch more of the series: